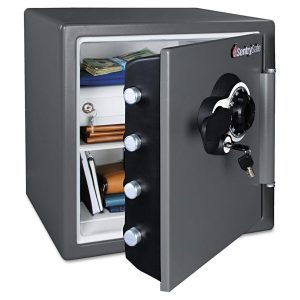 Fire Safes offer protection from house or office fires of all kinds, and some even resist water too! While they offer fire protection, they aren't exactly secure however, but they sure look like they could take all manner of abuse. Therefore, keep high value items such as jewelry, watches, gold, silver, etc. in a bank. And put these items in your best fire safe instead:
Passports
Social security numbers
Birth Certificates
Marriage Certificates
Title Deeds
Wills
Basically, you'll want to put anything in there that a burglar wouldn't immediately find valuable. And that's why things like jewelry and money should stay in the bank just in case.
Many Standards and Tests for Fire Safety
Most house safes need to withstand fires for up to 30 minutes at temperatures of well over 1800 degrees farenheit. As such, there are many standards and tests that go into classifying the best fire safe, but we will mainly focus on fireproof safes for the purposes of this article.
Here are 5 Fireproof Safes that have passed all of the tests from UL (Underwriter's Laboratories) and rank highly in many consumer buying guides. And I will list the pros and cons of each one for your reading enjoyment.
This sturdy safe is fire resistant and holds all of your important belongings in a very compact space for easy storage. It has a convenient carrying grip to help you move it easier and a key lock at the top of the box to keep unwanted people from opening it.

Pros: Fire Resistant (up to 1550 degrees Farenheit for 30 minutes), Extra small, key lock for extra protection.
Cons: Not fireproof, limited security
Wow, a fire safe that is not only fireproof, but WATERPROOF as well. This fire safe does it all with over 1.31 cubic feet of storage space for your valuables and important documents in the house. Its fire-resistant design allows it to withstand temperatures up to 1700 degrees for up to 1 hour. And its resistance to water keeps contents dry even when it is fully submerged. However, its digital lock may be hard to program at first, making it a bit less reliable than some of the other fire safes on this list.

Pros: Fireproof, Waterproof, lots of internal storage space
Hard to program digital lock
This rectangular fire safe safely stores your most intimate letter and office files for any reason whatsoever. As the title suggests, it can withstand temperatures up to 1550 degrees farenheit for at least 30 minutes and is completely waterproof as well, up to 24 hours. It even comes with a 7- year limited warranty so you can still sell it even after it's been through a fire. However, the safe weighs nearly 47 lbs, so it's not as mobile as some of the other safes on this list. But it will definitely keep your items secure from simple threats.

Pros: Waterproof Filing Safe Box, very spacious interior, 7 year limited warranty
Cons: Heavy (47 lbs)
This incredible safe keeps the ball rolling with fire AND water resistance in a compact, interior size that's perfect for holding small items and documents (0.19 cubic foot capacity). However, with only one set of keys for the lock, don't expect it to keep expert burglars and robbers out forever!

Waterproof, Fire- Resistant, small, compact size for storing small valuables
Limited Security
This safe seemingly does it all as it is super fire resistant (up to 1 hour at 1700 degrees Fahrenheit) as well as surprisingly water resistant (ETL verified at up to 8 inches of water for up to 24 hours). The safe also makes this list for being decently secure with four locking bolts, a pry- resistant hinge bar, sturdy steel construction, and comes with bolts to help you bolt it to the floor or wherever it will be safe in your house/apt.
Superior Protection Against The Elements
That's the thing about these safes. All of these fire safes will keep your belongings safe from the elements, sacrificing security for protection from things that can happen in the home. Think of the house burning down or a major flood washing away your home. If you need advice on the best fire safe for your home, don't hesitate and contact our Safes and Keys Services Santa Monica today. Our locksmith company is here for you 24/7 around the clock and work in your local area for quick service above all else.